Raised Floors Done Easy and Less Expensive with ABS Disposable Formworks
Raised access flooring on metal pedestals is common a building solution employed in commercial buildings in particular in order to provide space for mechanical, electrical and plumbing services. The solution is smart, fast, practical and allows easy reconfiguration afterwards.
Thanks to its usage flexibility, easy and fast installation and diverse range of coverings, it can also be applied in building renovations and can even be installed on top of existing floor coverings.
BUT, raised access flooring on metal pedestals doesn't come problem free.
Common Problems of Raised Floors on metal pedestals
Structural problems, such as rocking of panels and gaps between panels, can cause significant damage to equipment and injury to personnel.
Once panels are removed and replaced when work is done they will rarely fit perfect again. An annoying rattling will become permanent and will increase with additional interference.
When using raised floors one must always use a non-conductive material, ensuring any electrical shorts against electrocution. A metal floor may look fashionable and be practical however it may not be very safe.
The cost of application is high and varies significantly with material quality.
Finally, the covering material has be specifically designed as removable too, increasing the cost of total application.
---
Why prefer reinforced concrete raised floors with ABS Disposable Formworks?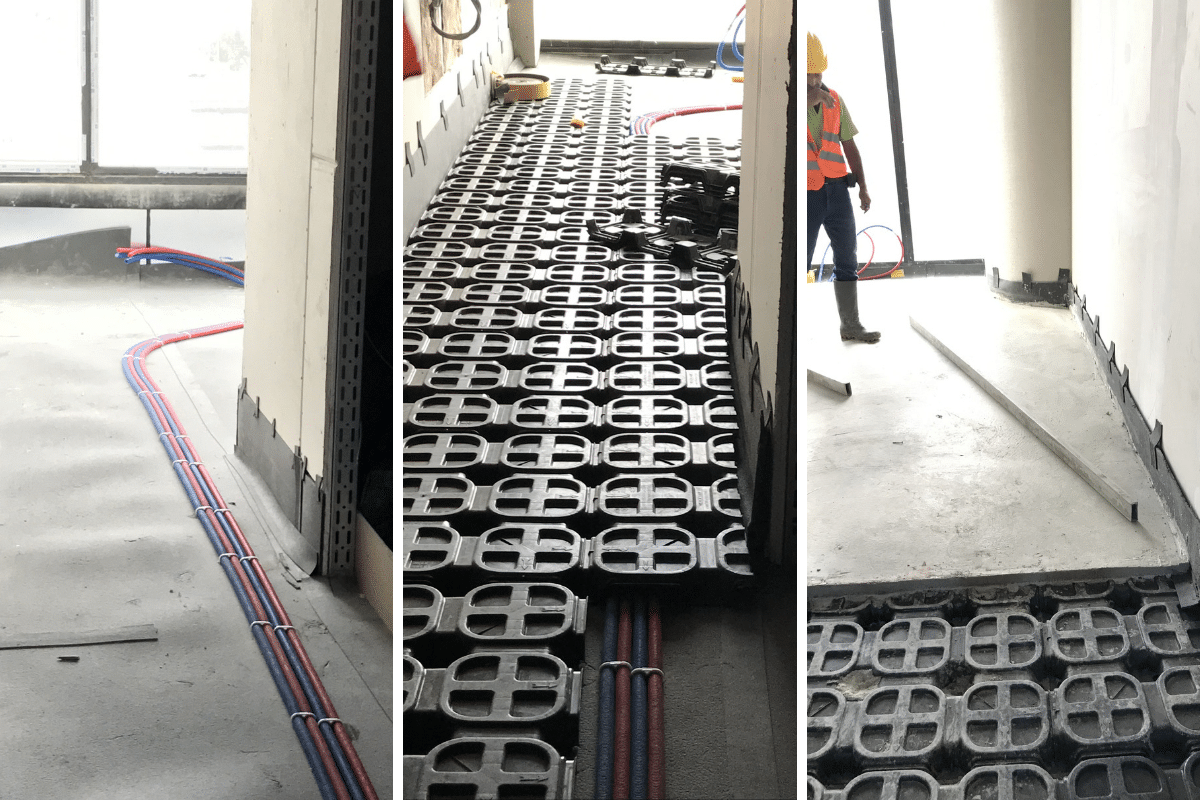 ABS LEVEL disposable formworks can be used to construct a reinforced concrete raised floor as an alternative to all raised floor applications with metal pedestals.
Most economical application: ABS Disposable Formworks are more than 60% less expensive than access raised floors with metal pedestals and composite panels.
Passage of technical installations: Almost any sort of technical (electrical, mechanical, etc.) installations can be passed through the empty space that is created beneath the reinforced raised floor. By using junction boxes fixed at certain intervals, the space can be accessed from above at very low operational cost.
High load bearing capacity: Hundreds of columns, arches and domes are created in the concrete, forming a continuous structure with a very high load-bearing capacity.
Continuous concrete surface: Any sort of covering (epoxy paint, wood flooring, asphalt, etc.) can very easily be applied on the surface.
Installation of separators: Any sort of separator can be installed directly on the concrete surface.
Fast and easy installation: Installation can be as fast as 100 m2/hour and requires no skilled labor.

Moreover, our products are made of recycled plastic (PP) reducing the environmental impact of plastics in addition to the reductions in concrete, steel and backfill material required by traditional solutions.
One last advantage due its low cost comes from the possibility of converting non-value-adding screed volume into a usable space. Using ABS LEVEL Disposable Formwork and a grid of junction boxes means that each commercial area to be filled with 8-10 cm of dry screed can be converted into a reinforced concrete raised floor. Volume that would normally have been lost can now be used for electrical and mechanical installations, thus increasing the total usage area of the building.
Emaar, Renaissance, Limak, and others (see reference project map) prefer ABS Disposable Formworks.
If you are interested in our products, you can contact us from this link.